AIoT solutions can effectively help to improve companies ESG metrics and to obtain sustainable development
Environmental, Social, and Corporate Governance (ESG) is a collection of efforts undertaken by business world to consider sustainable and social impacts along with financial gains. The COVID-19 pandemic has highlighted the central role that businesses should play in creating more prosperous, safer world and a more sustainable relationship with our planet. AIoT (AI and IoT) technologies can help companies to act now to transform to a lower-carbon business model by operating cleaner tech more efficiently, so to deliver environmentally friendly and socially responsible prosperity.
Internt of Things (IoT) has been considered as a big opportunity to digitize many operations and bring tremendous benefits to our everyday lives. According to the World Economic Forum report IoT Guidelines For Sustainability, "The Internet of things (IoT) is undoubtedly one of the largest enablers for responsible digital transformation. It is estimated that industrial IoT alone can add $14 trillion of economic value to the global economy by 2030. The report also mentioned that IoT projects can help attain the 2030 Agenda for Sustainable Development, which includes the 17 Sustainable Development Goals (SDGs) set by the United Nations. Combined with Artificial Intelligence (AI), AIoT has the ability to help to achieve these goals that encompass clean water, water use, fighting climate change, energy efficiency and industry renovation, among others.
IoT technology opens a world of possibilities and is a very important element for sustainability when trying to be more energy efficient and more careful with water use. We can collect information thanks to sensors and a network of communications infrastructure, which will be analyzed to subsequently make decisions with the data, assisted by AI, a strong ally to deliver deep insights against complexity.
AIoT can be a game changer to serve ESG objectives and many examples have demostrated its effectiveness
There is growing consensus about the decisive role that Big data and Artificial Intelligence) can play in helping find solutions to enable automation, change habits, improve efficiency and fight climate change. "Big data" technologies allow us to process swaths of data from different sources, while AI or Machine-Learning enable to develop predictive models on top of the data.
One example, the efficient use of water in irrigation, one of the 17 SDGs, is fundamental for two reasons: sustainability and productivity. According to UNESCO, 70% of the water used for crops around the world is freshwater, so one of the goals is to reduce its use. Thanks to ground humidity sensors and environmental data, such as the rain forecast, AIoT solutions can now plan when and where to irrigate with the right amount of water with the objective to maximize the efficiency. They also help to resolve farmers' greatest concern: productivity. AIoT algorithms can act on crop performance since controlling the risk impacts the use of expensive chemical products so to increase productivity,"
Another example, AIoT can be a game changer to measure multiple aspects of a company's carbon footprint and quick cost-cutting to accelerate sustainable transformation and reducing expenses in a time of need. According to BCG, using AI can reduce Greenhouse Gas (GHG) emission by between 2.6 and 5.3 gigatons of CO2e.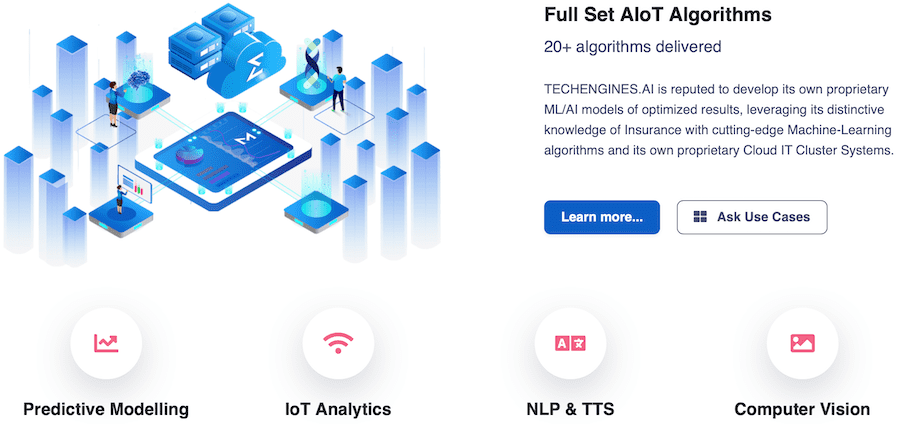 Here at TECHENGINS.AI, we have already developed full set of AIoT Algorithms that are adopted by enterprised clients in below four main areas:
Predictive Modelling
IoT Analytics
NLP & TTS
Computer Vision
TECHENGINS.AI itself strives to take more ESG-Friendly operational stance besides AIoT solutions to its clients
Althoug AIoT has already demonstrated its enormous value in helping companies to achieve sustainable development, at the same time, we are aware of the AI technologies' own carbon emissions problem:
Back in 2019, in the paper Energy and Policy Considerations for Deep Learning in NLP, researchers at the University of Massachusetts, Amherst, performed a life cycle assessment for training several common large AI models. They found that the process can emit more than 626,000 pounds of carbon dioxide equivalent—nearly five times the lifetime emissions of the average American car (and that includes manufacture of the car itself).
GPT-3, a powerful language model created by the San Francisco-based A.I. company OpenAI together with Microsoft, produced the equivalent of 552 metric tons of carbon dioxide during its training, according to the study. That's the same amount that would be produced by driving 120 passenger cars for a year.
Google's advanced chatbot Meena consumed 96 metric tons of carbon dioxide equivalent, or about the same as powering more than 17 homes for a year.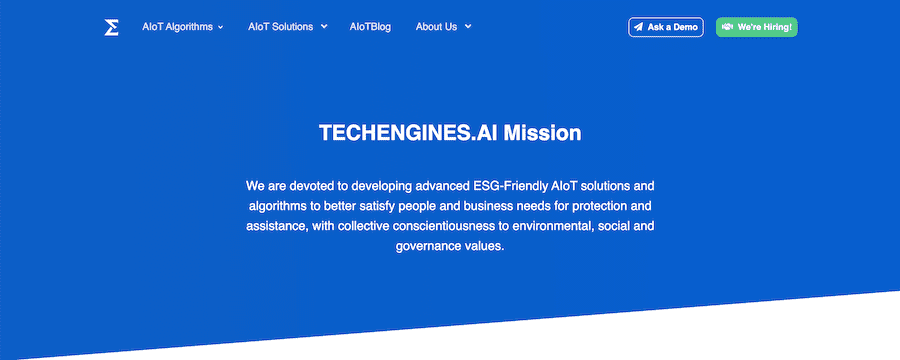 Putting the environmental and social sustainability in mind, at TECHENGINES.AI we ourselves will take more ESG-Friendly operational stance.
We will embrace more open collaborations with open-source comunity by starting to share the open-sourced datasets and projects in order to avoid unnecessary repetitive computing resource and energy consumption.
We will start to contribute to free training and exchanges among Data Sicence Enthusiast/Practioners.
We will focus on improving model performance and actively promote smaller Deep-Learning models with better efficiency.
TECHENGINES.AI positions itself as the Automation Enabler of Insurance industry. It's specialized in offering AIoT solutions. It's reputed to develop its own proprietary ML/AI models of optimized results, leveraging its distinctive knowledge of Insurance with cutting-edge Machine-Learning algorithms and its own proprietary Cloud IT Cluster Systems.